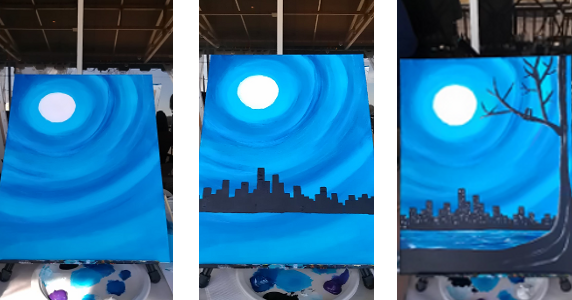 Last weekend, Kari and I had a blast creating works of art over cocktails and conversation! Thanks to a Groupon deal, we signed up along with Kari's mom, sister, and a few friends, and were introduced to Wine and Canvas. The premise is simple: you sign up online, then show up at the bar or restaurant where the event is scheduled. You get a blank canvas, paints and brushes, and even an apron to keep you somewhat clean. Everyone paints the same picture, and an instructor paints along with you so you can watch what to do. (That part is definitely easier before the cocktails!) Here's the before:
It's a step by step process, and our class lasted 3 hours. At the end of the event, we all took our paintings with us - some to be displayed prominently in our homes, some to be donated to a charity thrift shop near you.
Not only is this a super idea for a night out, it's a great idea for a Bachelorette Party! We've heard from a lot of you that say you want a fun night out with your friends that doesn't involve a fake veil and strippers. Wine and Canvas offers private parties which could be held at any number of restaurants that have private event space. Plus, you'll have a souvenier of your night with the girls!
Check out the Wine and Canvas website or Facebook page for more info:
Wine and Canvas Website Wine and Canvas Jacksonville - Facebook page